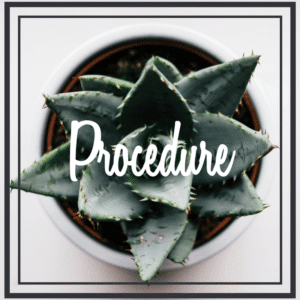 This is an article about the general Brazilian wax procedure. Although each Waxpert has his or her own technique, you will find that it is pretty similar to this.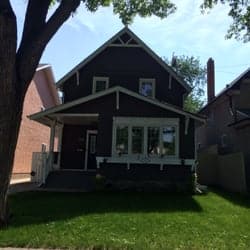 This is where you are going.   Go straight up to the stairs and if you look to the right there is a white door. (The city bylaws prevent me from having a sign)
Please arrive on time. If the salon door is closed it means I'm with a client or not ready for you.  Your welcome to sit on the chair and wait.  If you are 10 or more minutes early, call 3065251702 to make sure I am not with another client.  Use the washroom before you arrive at your appointment. Female genitalia only.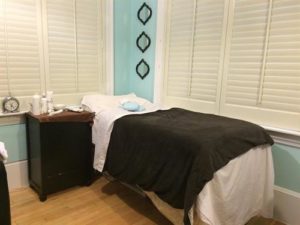 If you are bringing a friend for support, let me know.  There is no room divider or privacy so they will see everything.  That's ok if you have that kind of relationship but I'd like to have a chair waiting for them.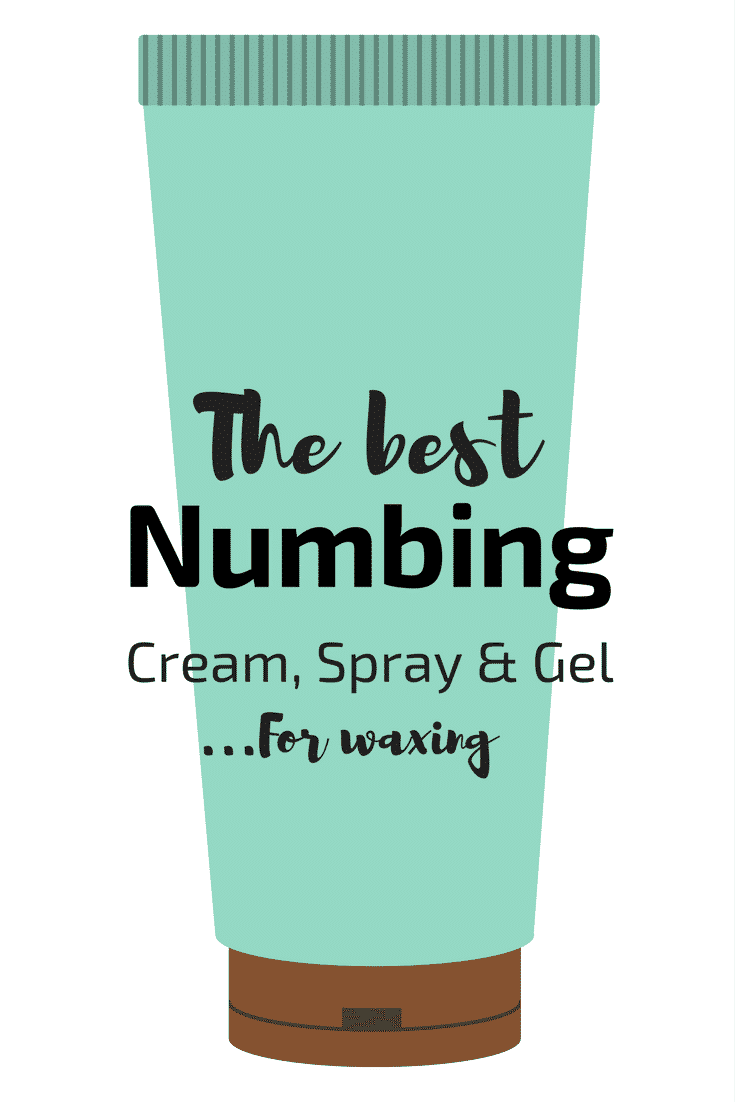 You will be greeted at the door and welcomed into the room.  Be prepared to answer a few questions as I take notes on the computer.  You will be asked to remove your pants and underwear and asked to lay down on the bed and to place a towel over top. I do not leave the room.
You will be directed to move into various positions in order for me to reach the all the hair.  By this point, I will hopefully have reassured you that the pain won't be as bad and will likely explain to you that you are my 4th or 5 th Brazilian that day.
This is a great time to ask me questions.  Also, just so you know your labia is normal looking.
I have never been shocked by anyone's genitalia and I have seen 1000's . Do you have a ring down there? I can work around it.  Are you 9 months pregnant? No prob.  If your water breaks on the table you pay double, also if you go into to labor please ask your partner to call or email and let me know you won't make it. Think you will chicken out after the first couple of strips?  That's fine.  No one ever does.  But if you do you still have to pay me $25 to cover my costs. Check out what you need to know about pre and post prep in this article "Pre/Postcare/FAQ"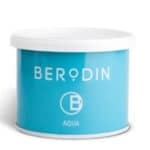 The wax I use is very different than what most Estheticians use. It's a higher end wax from Europe.  I use a combination of hard wax ( it is applied to the skin, shrinks around the hairs and then get pulled off) and soft wax ( it is applied to the skin and a piece of cloth is put on it and it is pulled off the skin)
You will NOT b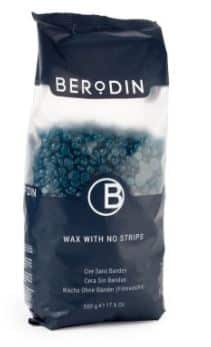 e asked to get on all 4s. Enough said,
Let's talk about the bum. You will get your bum waxed.  Everyone does. Why would you leave the hair there and wax everything else? This is included in the price.
I take cash, check or email money transfer. I also charge tax on top of my service price.
If you are satisfied with your wax and feel like I did a good job, please leave a review somewhere on the internet.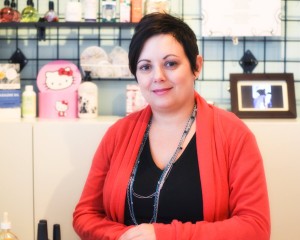 I have been doing this for 10 years.  I specialize in Brazilian waxing and I do it all day every day.  Feel free to contact me to ask me any question.


PreWax Care
Make sure you are extra clean front & back right before your appointment.
Take an aspirin or Tylenol 30- 45 minutes before your appointment if you're worried about pain.
Don't wear tight panties, pants or leggings for the next few days.

Keep hands away from touching freshly waxed skin, as this can encourage irritation or small pimples.

Opt for a shower. Don't take a hot bath or hot tub for the rest of the day.

No tanning beds, saunas or steam rooms for the next two days.

Short-term abstinence. Sexual activity should be avoided for at least 24 – 48 hours.

Exfoliate. Every day

Fight the bumps. If you get any ingrown hairs try Post wax soothing serum. 
COMMON QUESTIONS
How long will the area be red?
It should go away within two hours, however, clients who have sensitive skin may notice it takes up to a day. You can use a soothing cream to help get rid of the redness.
How long will the results last?
First-time clients will notice the regrowth typically from 2 to 3 weeks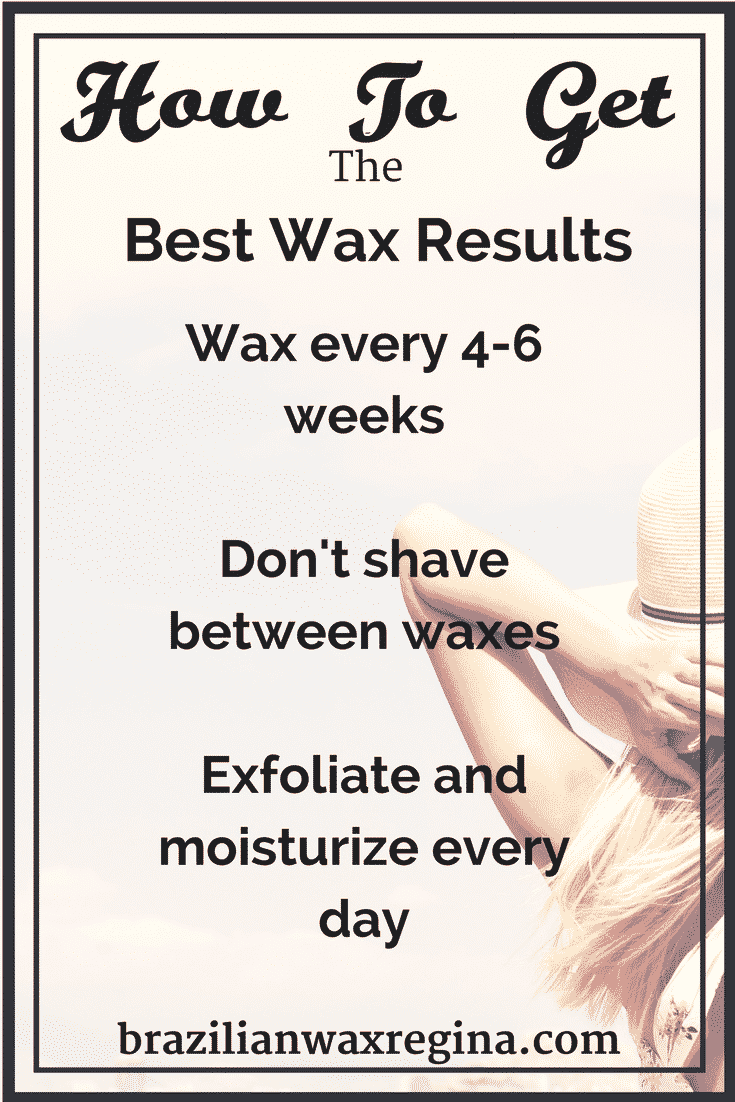 . When you start to regularly wax on a schedule, the length of time between waxes will get longer generally four to six weeks. After your fourth or fifth visit at 4-5 week regular intervals, all your hair will be in the same hair growth cycle and will be a good waxable, length at the same time. You will start to see the same effect as regular waxers after further appointments.
How can I prevent pain?
The least painful time to wax is 5-14  days after your period. Do not drink coffee or alcohol prior to your waxing appointment. Take an ibuprofen 2 hours prior to your appointment. Apply a numbing spray prior to your appointment.
→How can I prevent ingrown hairs?
See above in post care!
→Will it hurt less the second time?
Yes, because the hair is growing back as a new hair, it is softer and thinner and has a smaller root bulb.
→How often should I get a Brazilian wax?
In the first 6 months, I recommend every 4 weeks. After that every 4 to 6 weeks depending on your hair growth.
→Can I be waxed when pregnant?
Yes. There are no restrictions on waxing when pregnant and we have lots of experience waxing heavily pregnant ladies who come in right up to their due date.  
→Can I be waxed during my period?
Yes. We ask that you use a fresh tampon before your appointment and that you are hygienically presented.
→What is blood spotting?
Hairs in the Anagen (growing) stage of the hair growth cycle is all supplied by tiny blood vessels. When an Anagen hair is forcibly removed by waxing, a small amount of blood may travel up through the channel in the skin that the hair was previously in.
→Can I shave if I have to?
You can but it will cause the hair to grow thicker and your next wax will be much more painful.
→Why do you use so many different types of wax?
Different types of hair need different types of wax.
→Is sugaring better than waxing?
No, you are pulling the hairs out by the roots with each method. The difference is that most waxes or oil soluble and most sugar is water soluble.
→How can I get the best waxing results?
Moisturize and exfoliate! In the days leading up to your appointment, you must moisturize the area being waxed.
→Do I have to trim before I come?
No.  Don't trim.  Most people trim too much then the hair is too short to wax.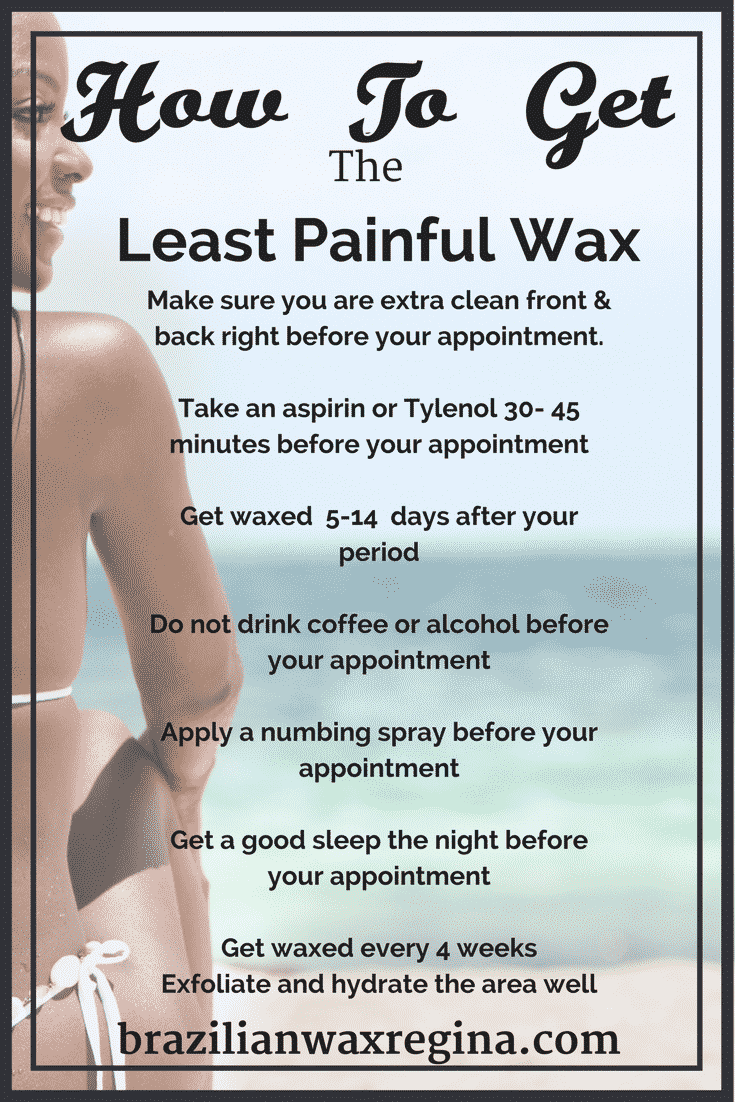 Have more questions?  Just ask taniarice@sasktel.net 306-525-1702