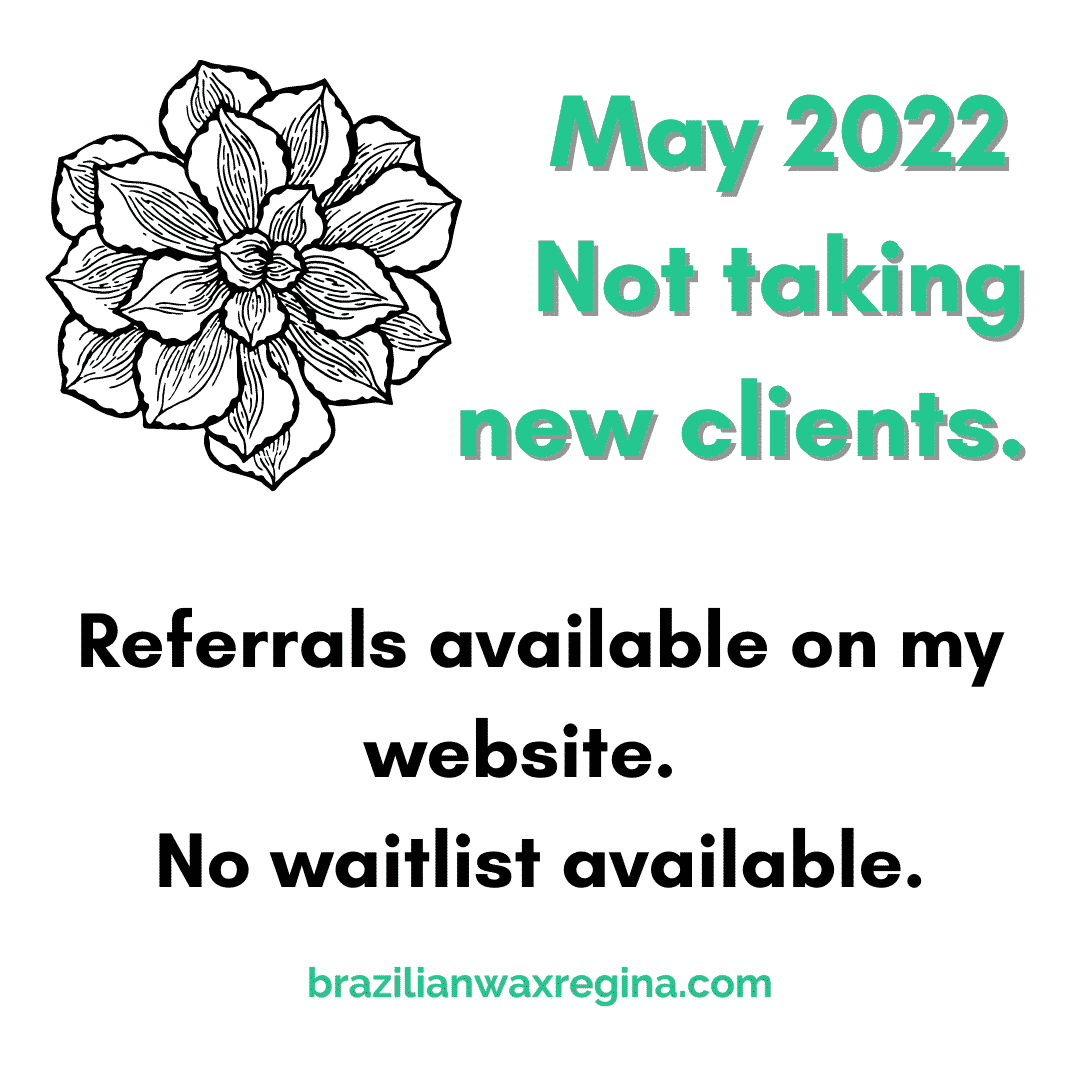 Please start a regular waxing regime 4-6 months before your "big day" or vacation". If you can't then that's ok.
Make sure you have no contraindications to waxing SEE General Information
Exfoliate and moisturize daily up until the day of your appointment.
Please drink plenty of water and avoid tanning 24 hours before your appointment.
Tell me about any medication changes, skin routine changes or medical conditions before your appointment.
Please come to appointments with at least 3 weeks of hair growth. ( yes I can tell just by looking at it if you shaved a week ago)
If you have questions you will likely find the answer on This Page
Please read through the Etiquette page before you come to your appointment.

!!!PLEASE Double-check your appointment time in the Schedulity app.  Some email providers show the wrong time because of the daylight savings time change.  Scroll down to the actual email to see the correct time!!!
Your credit card will not be charged unless you miss your appointment. If you do miss your appointment then you will be charged 50% of the service value.
I do understand that emergencies come up and will not charge your credit card if you call with a valid reason. To cancel an appointment  cancel online ( if more than 24 hours) or email me at taniarice@sasktel.net

Please make sure you get an email confirmation when you book!  This email has the address to the business! If you don't receive one log back into Schedulicty and look to make sure your booking went through.   Clients, sometimes click the cancel button instead of the confirm button.


My hours are Monday to Friday- 9-3 ish and often change.
I am unable to accommodate appointments after these times as I have family responsibilities.   If you need hours outside of the time please visit my referrals page 
If you are more than 10 minutes early, please wait outside or text first (phone number will be in your confirmation email) There is no waiting room, but you are welcome to wait in the chair on the steps.
Cash, check or email money transfer are accepted. Gst is not included in the price
—————————————————————————————————–
🚨NEW POLICIES- Please read carefully
🤚Please use the hand sanitizer that will be outside the door before coming into the spa.
😷You must wear a mask for all services
🤒If you are sick, or in isolation, or waiting for Covid 19 test results please reschedule your appointment for the recommended guidelines from Sask Health.
💻Please use the self-assessment tool prior to coming to your appointment.