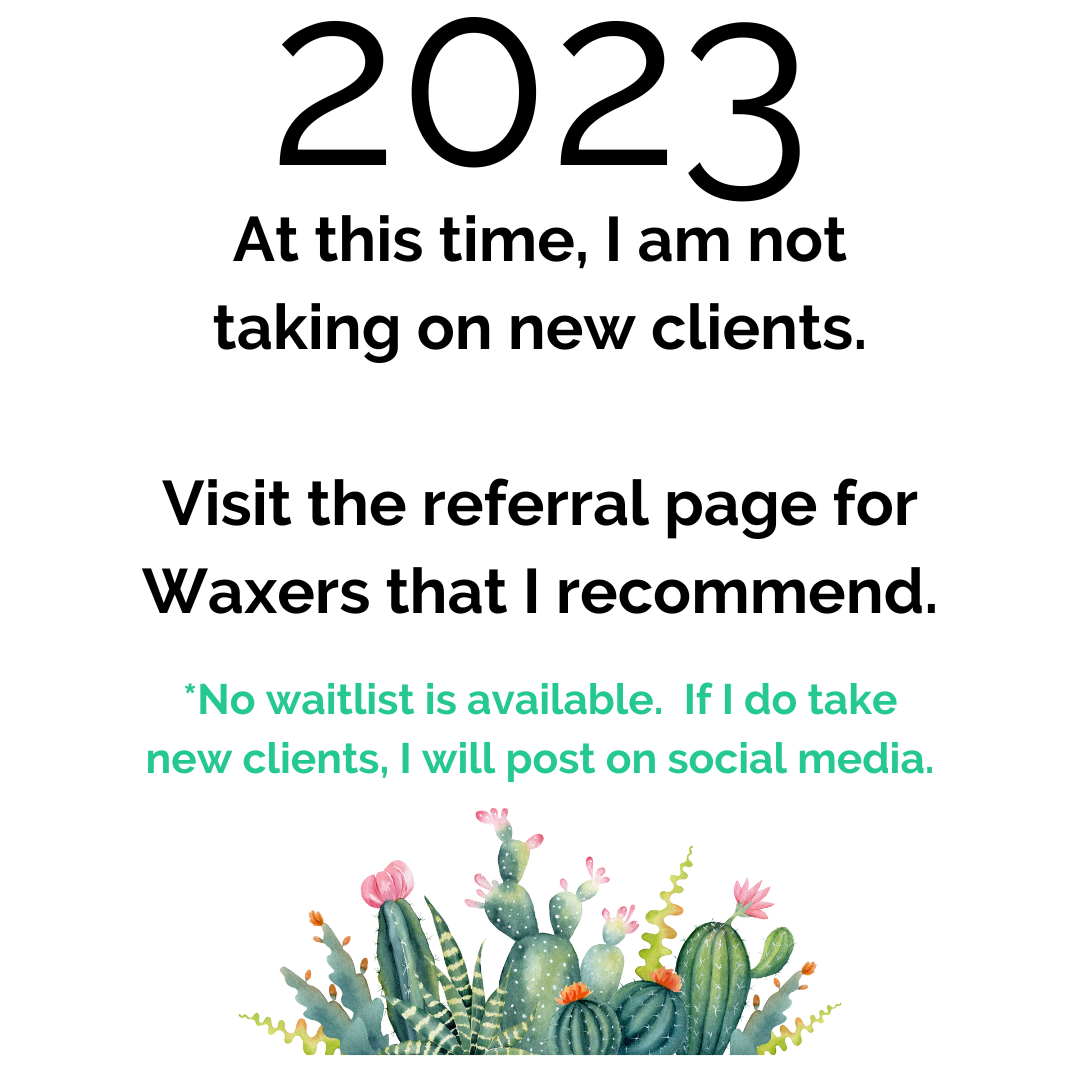 It is very important that you check to make sure you have no contraindications to waxing.  Please read the full list here.
PreWax Care
Exfoliate (scrub the area with a scrub brush, face cloth or body scrub). Cleanse and moisturize every single day with a pumice glove. Use only liquid soap!
Make sure you are extra clean front & back right before your appointment. We recommend SweetSpot wipes.
Take an Ibuprofen or Tylenol 30- 45 minutes before your appointment if you're worried about pain.
Things that will cause you to be more sensitive at your wax: tiredness, close to your cycle, pregnancy, hangovers and too much caffeine. Try Numbing cream! 
Post-Waxing Care:
Don't wear tight panties, pants or leggings for the next few days. Try to wear all cotton with no lace.
Keep hands away from touching freshly waxed skin, which can encourage irritation or small pimples.
Opt for a shower and use a gentle wash on the area. We recommend SweetSpot Labs Wash. Don't take a hot bath or hot tub for the rest of the day.
No tanning beds, saunas or steam rooms for the next two days.
Short-term abstinence. Sexual activity should be avoided for at least 24 – 48 hours.
Exfoliate. Every day just like the pre-care instructions
Please read through the Etiquette page before you come to your appointment. This will ensure you get the best possible waxing service.

Your credit card will not be charged unless you miss your appointment. If you do miss your appointment, then you will be charged 50% of the service value.
I do understand that emergencies come up, and I will not charge your credit card if you email or call with a valid reason. To cancel an appointment, cancel online ( if more than 24 hours) or email me at taniarice@sasktel.net


My hours are Monday to Friday- 9-3 ish and often change.
I cannot accommodate appointments after these times as I have family responsibilities.   Please visit my referrals page if you need hours outside of that time.
If you are more than 10 minutes early, please wait outside or text first (the phone number will be in your confirmation email). There is no waiting room, but you are welcome to wait in the chair on the steps.
There is no public bathroom, but you may use my house bathroom if necessary.  (I have a very friendly lab and a cat who might try to follow you around)
Cash, check or email money transfer are accepted. Gst is not included in the price
!!!PLEASE Double-check your appointment time in the Schedulity app.  Some email providers show the wrong time because of the daylight savings time change.  Scroll down to the actual email to see the correct time!!!

Please make sure you get an email confirmation when you book!  This email has the address of the business! If you don't receive one, log back into Schedulicty and look to make sure your booking went through.   Clients sometimes click the cancel button instead of the confirm button.
—————————————————————————————————–